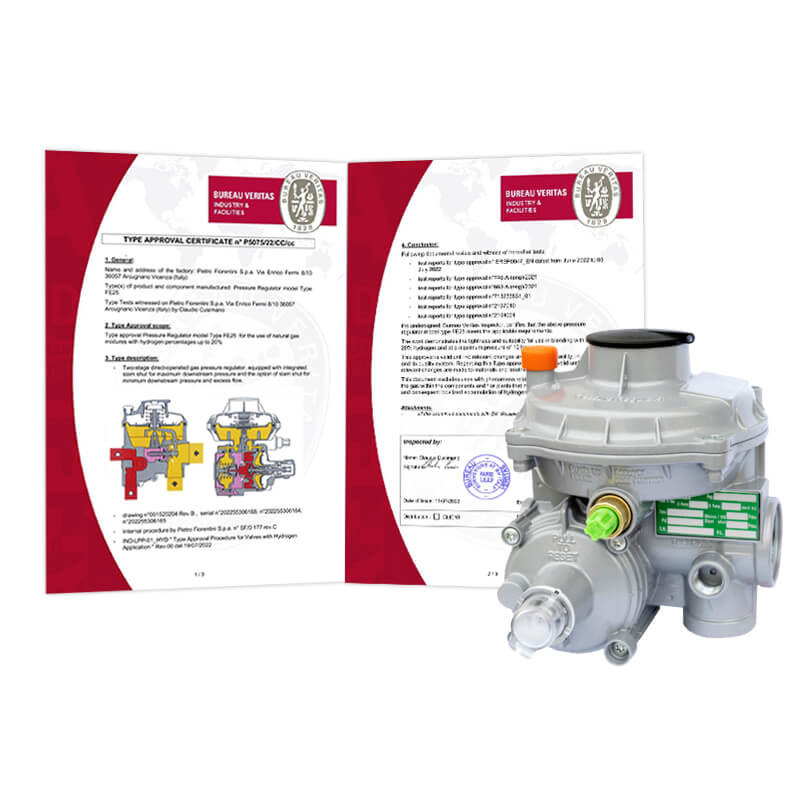 The FE regulator by Pietro Fiorentini certified for hydrogen by Bureau Veritas
28 July 2022 - Solutions
Bureau Veritas certifies the first gas pressure regulators by Pietro Fiorentini, that can be used with 20% H2 mixtures. Specifically, the two-stage direct-operated gas pressure regulator FE.
Bureau Veritas, a world leader in auditing and certification services, performed the product conformity verification following type approval for actuators and valves operating on hydrogen or hydrogen mixtures.
Specifically, for the issue of the Type Approval of the gas pressure regulator Mod. FE, the requirements of UNI 11655: 2016 "Pressure Control Devices (DCP) – Design, construction and testing" were followed, also applying the internal procedure developed by Pietro Fiorentini's Hydrogen Readiness Team. Helium was used as a gas for evaluating the external and internal tightness of the regulator.
Francesco Fortuna, Europe Regional Sales Manager of Pietro Fiorentini, explained: "The two-stage regulator for medium and low pressure natural gas distribution networks is one of our historical and most popular products with our customers products. The high levels of design and quality, as well as the high safety standards, allowed us to quickly make the hydrogen ready solution ready and successfully undertake the certification process with Bureau Veritas."
Matteo Cazzola, Hydrogen Solutions Specialist at Pietro Fiorentini, concluded "Ensuring suitable and safe products for natural gas distribution networks with hydrogen blending, is one of the main objectives we have set ourselves. Among renewable energies, hydrogen is the element most present in nature and when produced from clean energy sources, it is a zero-impact energy vector. That's why it that can be a very valid ally for the reduction of carbon dioxide emissions as required by the decarbonization objectives set by the European Union."