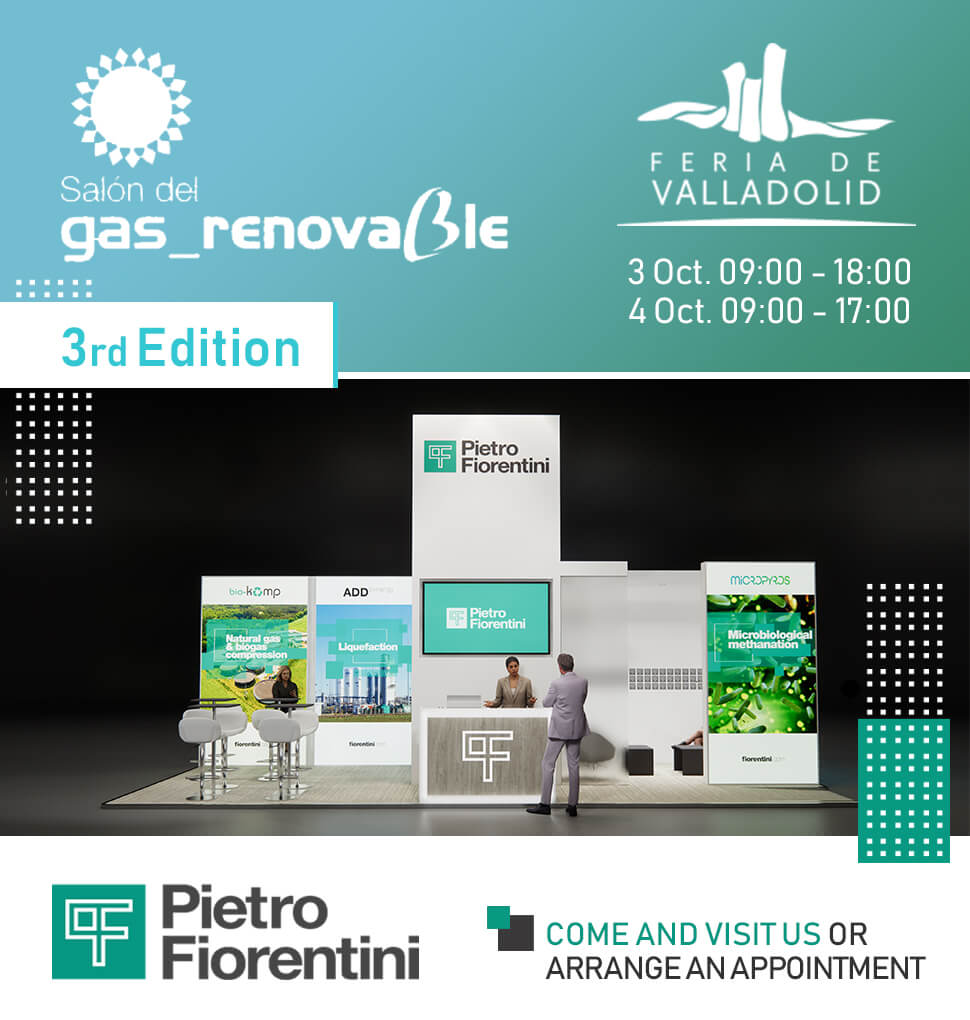 Pietro Fiorentini Iberia at the SALÓN DEL GAS RENOVABLE DE VALLADOLID
14 September 2023 - Corporate
Pietro Fiorentini Iberia will be present again at the SALÓN DEL GAS RENOVABLE DE VALLADOLID on the 3rd and 4th of October.

Now in its 3rd edition, it will present the many cutting-edge renewable energy solutions offered by the Pietro Fiorentini Group:

Biokomp: specialisation in compressor solutions
Hyter: manufacturer of hydrogen electrolysers and electrolytic cells
Micropyros: biological methanation and P2G solutions
ADD Synergy: engineering and manufacturing solutions for liquefaction plants (BIOGNL/LBM, LCO2), distillation, regasification, natural gas or treated biogas refuelling stations and cryo upgrading
PF Systems Department: systems integrator to provide turnkey solutions, modernisation and manufacturing of biomethanation plants
 
 
The SALÓN DEL GAS RENOVABLE will be held in Valladolid (Spain) together with the XVI International Bioenergy Congress. Pietro Fiorentini Iberia, as well as the other exhibiting companies, will have the opportunity to actively participate in the congress sessions, conferences and networking activities with the professionals attending the biggest event of the bioenergy sector in Spain, Portugal and Latin America.

Do not miss the opportunity to come and visit us to discuss the Renewable Energy solutions offered by the Pietro Fiorentini Group.

Make a personalised appointment with us by sending an email to [email protected] or filling in our web form.
We look forward to meeting you!